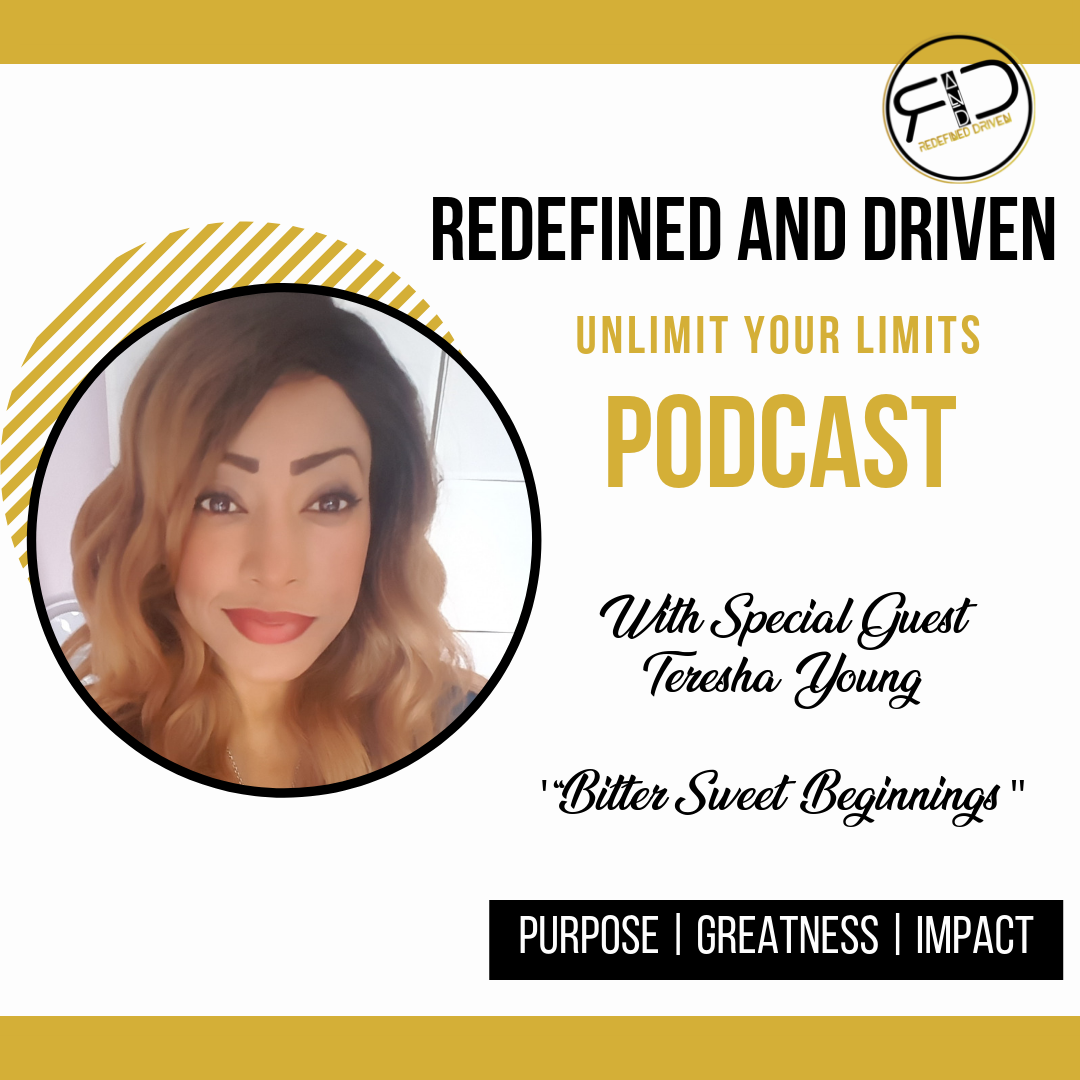 Welcome to Episode 9: Redefined and Driven - Unlimit Your Limits.
Beautiful Ladies.......Ready for another dose of absolute inspiration.....
Here we are again.....ready for another brilliant and fine-tuned episode of Redefined and Driven - Unlimit Your limits. The podcast which shines a light on those who are able to turn their pain into their biggest credential.
What an episode!!!!
In this episode, I am joined by the truly amazing Teresha Young. I absolutely LOVE this lady and her journey is truly inspiring and emotional.
ABOUT TERESHA YOUNG
Known as 'The Confidence Restyler™', Teresha Young is a Public Figure, Online Author, Speaker and Accredited and Certified Relationship Master Coach, specialising in helping women (although men are also welcome to work with her) who feel like there is a piece missing to their puzzle in life and/or their relationships, by guiding them to rediscover who they truly are, so they are empowered to shine bright like a diamond and have the fullness of love, life and relationships (be it professional, family, friends or romantic) that they desire and deserve. Her passion, purpose and pure intention is to encourage, inspire, empower, uplift, motivate, educate and support as many people as she can in their love, lives and relationships.
Teresha's Diamond Clarity coaching programme, as well as her private 1:1 coaching, provides her clients with a holistic approach to living a healthy, self-loving way of life.
Her relationship and coaching articles have been featured in online publications such as the 'International Coaching News' (iCN), 'The Ladies Coach' and 'Couples Learn' and she is regularly interviewed as a guest speaker on the topic of relationships, most recently for 'Love Lessons' on Women's Radio Station.
Teresha has over 14 years' experience of developing, coaching and mentoring individuals and is skilled in the areas of personal development, self-confidence and in how to have a true connection with oneself, as well as with others.
She is an IIC&M Accredited & CSA Certified Master Coach, alongside being Chartered Institute of Personnel and Development (CIPD) qualified. She also holds qualifications in Life Coaching, Counselling Skills, Body Language, Reiki 1 and 2 and Equality & Diversity.
Connect with Teresha Young
Website: https://tereshayoung.com/
Facebook:  https://www.facebook.com/TereshaYoungRestyler
Facebook Group Diamond Clarity HeartNet: https://www.facebook.com/groups/312989965766719/
YouTube: https://www.youtube.com/channel/UC6_RQASyX8WLBzXIUmMyv9w